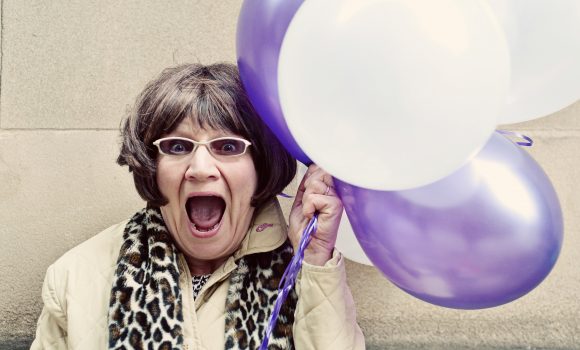 The malapropism spouting Stockport Housewife is a force of nature; energetically cajoling the audience to take part in her hare brained stunts and injecting an unbeatable air of fun and excitement into the room. Chortle

Mother of five from Stockport (now nesting in King's Heath), Mrs Barbara Nice is a much loved headline act throughout the UK. A firm believer in getting the most out of life, her creator Janice Connolly was recently awarded the British Empire medal in the Queen's New Year's Honours list!
After a successful BBC Radio 2 Comedy Showcase pilot in 2015, she was commissioned for a full series in March 2017. Bargain hunter Barbara doesn't drive and travels the country by National Express coach. Her husband knows nothing of her burgeoning comedy career, he thinks she's either at bingo or
dog sitting.
As seen on Coronation Street, That Peter Kay Thing, Phoenix Nights, Max and Paddy's Road To Nowhere amongst others.


A hybrid between Victoria Wood and Mrs Merton The Times



Housewife superstar of the North West. She banters affectionately with the crowd, leads the singalongs and generally celebrates the joys of life, however modest. Chortle