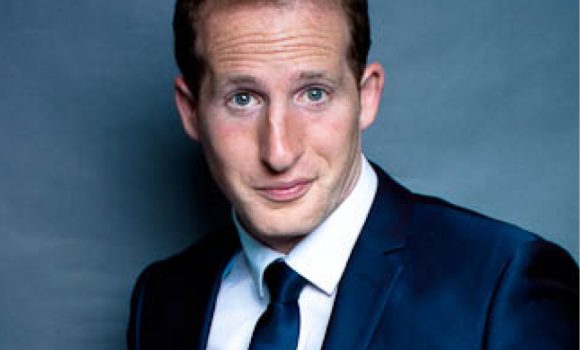 Uplifting style, great delivery and consistently funny throughout
Sam Walker, BBC Manchester

Tony Vino is the only half Spanish half Scottish hybrid working comic in the world. Born in Malaga he was subsequently raised in the Costa Del Preston, Lancashire. When he was only a toddler his Father looked around saw the sea, the sand and the sunshine of the Andalucian coast and thought we need to be nearer Wigan Pier.
He has been a pro comedian for over 10 years touring both nationally and internationally. A finalist in 2006 Funny Bones competition, Tony has enjoyed recognition as a comedian and comedy compere of renown. He's a regular on the Carnival cruise line and the creator of The Clean (As Possible) Comedy Show, which he takes to the Edinburgh Festival most shows.
Comedy that's life affirming
BBC1 Heaven & Earth Show

Tony is best known for the way he seamlessly mixes well thought out observational humour with audience interaction and quick witted responses. His life and interests are wide ranging, and so is his material, all performed in a warm, friendly and non-offensive style.
Tony is very funny, a class act and always comes up with the goods
Darren Goddard, Greenbelt Festival Events

Tony is the resident compere of Just Fair Laughs, a Fair Trade comedy agency which runs several weekly and monthly comedy nights in pubs and theatres across the UK. When hosting festivals and corporate events his confident effervescent persona has been found ideal for engaging crowds in their 100s and 1000s.
A Great Show…the assured Tony Vino… copes with a mixed audience really well
Kate Copstick, The Scotsman

Well aware of social and political issues Tony has been called upon to entertain at many high profile events for charities such as Christian Aid, Oxfam, Fairtrade Foundation and TearFund. He does warm up work for BBC Songs of Praise (tough crowd) and is a regular comedy pundit on BBC Radio Manchester. Other previous clients include ASDA, Co-op, KCom, Holland & Barrett plus various top flight football, rugby and cricket clubs.
Tony was delightful, he had 1000 people fully engaged and laughing throughout
Paul Jennings, ASDA Events/Communications